From Monday 12th April
As a non-essential shop I will be inviting customers along to my bug room to collect their order or choose their animals by appointment. I have added some "collection only" items to the website as an incentive!
Selection of Specials View All
View All Latest Blog Posts
Published: 02/04/2021 Comments 0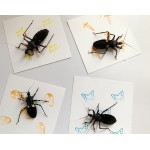 I have found that in the last year, I am happy to celebrate just about anything. The news on television is full of doom and gloom, so if it's any sort of celebration count me in. We have all had lo...
Latest
Bestsellers