I will be unavailable 18th - 30th July Please get your orders in ASAP if you wish to receive your order before I go! All orders received before 9am will be sent tomorrow (for Thursday delivery before 1pm).
Selection of Specials View All
View All Latest Blog Posts
Published: 13/07/2018 Comments 0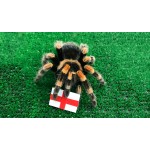 Friday 13th, never a good omen. I intended to write a 'proper' blog this week but as I am going away next week, I have just run out of time. I never run out of things to say but I frequently run o...
Latest
Bestsellers