I will be off on holiday this Friday (returning Tuesday 19th). All orders received before Thursday will be sent on Thursday. All orders received after this time will be held until my return.
Thank you so much to all the people who heard my plea and have placed orders prior to my holiday, especially those that bought praying mantis :)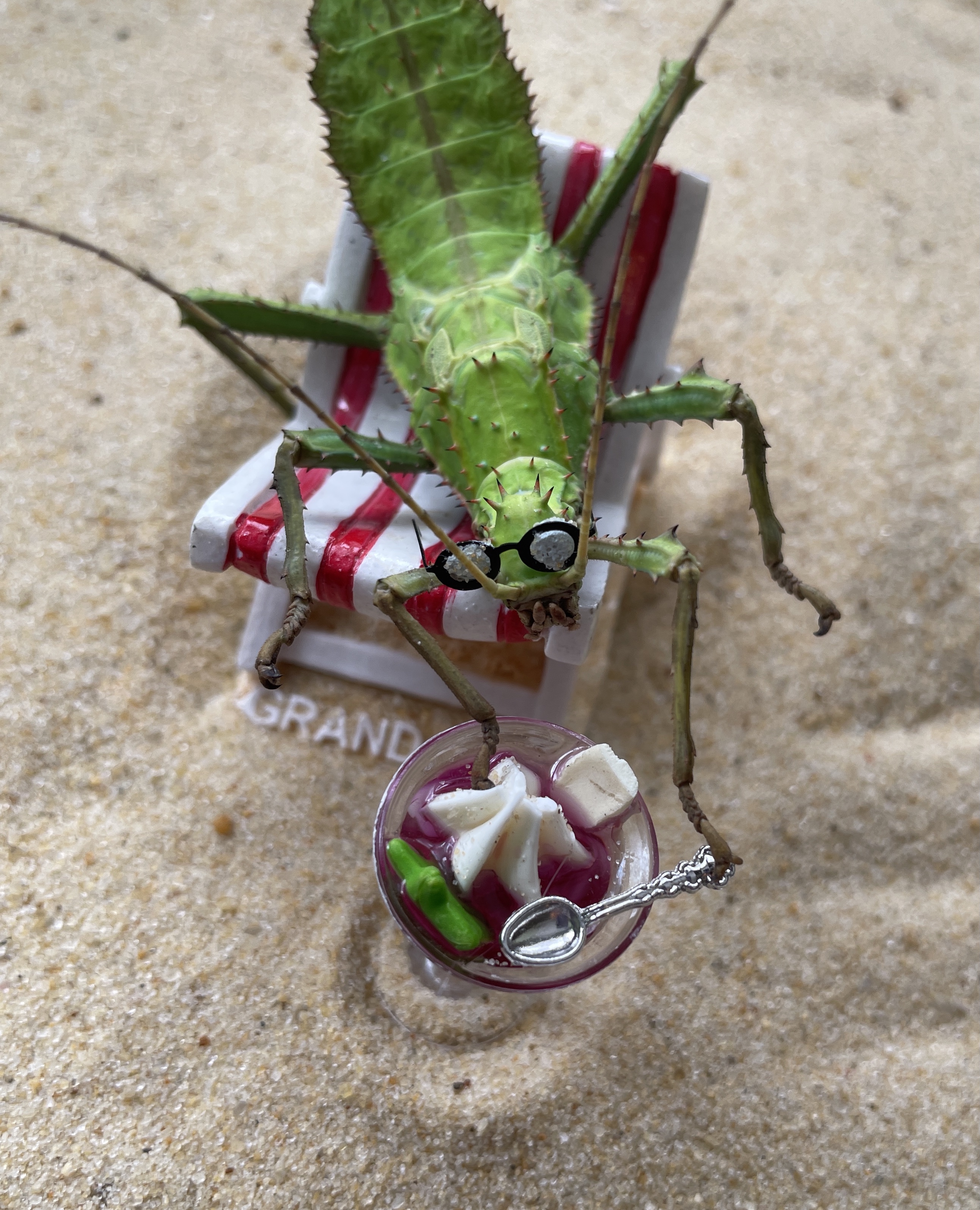 FAQs
Q. Can I post a review on your website?
Certainly, I always appreciate customers taking the time to submit a review. I'm sure they are of great benefit to my website. Please note that you do need to be logged onto the website in order to post a review.
Q. Can you sex tarantula spiders?
A. Not unless they are fully adult. Many people are claiming to sex immature tarantulas, it is not an easy task, spiders can only be sexed by examining the moulted skin under a microscope or lens. Pet shops rarely have a spider long enough for it to moult and even some dealers are claiming that their spiders are female when in reality they have no idea. I do not sex spiders or even know how to. Almost everyone wants females, including me! I can guarantee my spiders are well cared for and healthy. Unless male or female is stated all tarantula spiders on my website are unsexed.
Q. What do you mean by Small, Juvenile, Medium and Large Tarantulas?
A. It is difficult to give a size for the spiders as stock is constantly changing. Generally the small size is a spiderling up to 1.5cm body length (small will be SMALL), juvenile is a grown on spiderling with a body length of about 1.5cm, medium 2cm to 4cm and a large is about 4cm to fully adult (but a lot depends on the species!)
If you would like me to measure the body length of any medium or large spider please send me an email. I cannot measure the body length of small and juvenile size spiders as they are constantly changing.
Q. Do you allow visitors?
A. You are very welcome to call and collect an order by appointment at a time that suits you. If you would like to visit my bug room, please see "Call & Collect" on the purple bar at the top of my website for details.

Q. How do you keep your spiderlings?
A. I house my spiderlings in plastic tubs like the ones sold on my equipment page. I put a little peat on the bottom and add some sphagnum moss to hide in. I make a tiny hole or two in the lid of the tub. It is important to make sure the tub stays humid but not damp and not too dry. If there is a little condensation on the lid then this is a good indicator that the humidity is fine. I pop in a micro cricket or two about once or twice a week. If the crickets are not eaten before night time it is a good idea to remove them as the spider may be about to moult and the crickets might damage it.

Q. Do you have a specific species?
A. Stock changes continually but everything that I have, is on my website. If in doubt please use the search box at the top of the page. If the item appears on my site, the search box will find it for you. Please use scientific names where possible as common names may vary.
Q. Will you be getting a specific species soon?
A. Stock changes continually and I never know what is coming in next. It is really a case of keeping a lookout on my site, as soon as I have an animal available it will appear on my website. I never put anything on my site that I don't physically have here.
Q. Do you have a trade list?
A. I do not have a trade list but I always have special offers and bulk buy deals.
Q. Do you supply care sheets or information on specific animals?
A. I try to provide information on each animal, most have a section called "How I Keep mine" but a Google search will generally provide plenty more information and photographs. You are always welcome to give me a call (during office hours!)
Q. How do you measure your tarantula spiders?
A. I measure the body length, this is a far more accurate measurement than leg span. People often quote leg span sizes to me over the phone and then when the spider turns up it is tiny. I don't know what these people are measuring but I don't think they could reach that leg span if the spider was squashed with a hammer! I know that body length sounds much smaller but it is a reliable measurement and saves disappointment.
Q. Can I have a male and female pair?
A. I will always do my best to send a male and female when possible. However, it is not always easy to tell the sexes apart, especially in the young. Sometimes I only have one sex available.
No guarantee can be given on the sex of any bug sold by me, unless stated at the time of purchase.
Q. What creatures can I keep in a communal tank?
A. It is not easy to set up a communal tank for invertebrates, however I have found that generally cockroaches, millipedes, fruit beetles and stick insects can be kept together quite happily.
Q. Can you identify this bug?
A. Probably not, but I know someone who can!
Click below for the Natural History Museum website.
http://www.nhm.ac.uk/science/enquiries.html
Q. Do you supply ants, or know anybody who does?
A. I do not supply ants but I know a man who can help [email protected]
Q. Will you take back unwanted livestock, for example, surplus stick insects, cockroaches, millipedes, tarantulas and scorpions?
A. Yes, I am generally happy to take unwanted bugs but I need to be informed in advance as I work alone and would need to ensure that I can be in to receive your parcel.
Q. Do you sell moths & Butterflies?
A. No, I do not sell Lepidoptera but you could try your local butterfly house as they often sell surplus stock.
Q. Which creepy crawlies are suitable to keep in the classroom?
A. I have found the most popular creepy crawlies kept in the classroom are stick insects, giant snails, fruit beetles and hissing cockroaches. They are easy to keep and most suitable for children.
Q. Do you hire out bugs?
A. No, but you are welcome to purchase the bugs and return them if you do not wish to keep them.
Q. Are you sure the scientific name is correct?
A. I can never be sure, I can only go by the name I am given when I obtain them.
Sorry I am no taxonomist.
Q. Which substrate do you use in your cages?
A. When housing bugs, especially spiders and scorpions I prefer to use peat but it is difficult to come by these days. I therefore generally use a 50/50 mix of coir and silver sand. I sometimes use vermiculite but although it looks nice it tends to get stuck on the bugs, especially tarantula's feet!
Q. Do you visit schools, clubs and parties with your bugs?
See "Events with me and my bugs" in the categories section of website
A. These are some people from outside my area that I would happily recommend:
Martin Rapley www.thebugman.co.uk
Jonathan Cleverly www.jonathansjungleroadshow.co.uk - Jonathan is a qualified primary school teacher - Based in Swindon, Wiltshire
Andrew Smith http://www.andrewsmithbugs.co.uk (Andrew is a qualified teacher running workshops in line with the National Curriculum)
David Harris www.creepycrawlyclassroom.co.uk - Leicestershire, Rutland, Lincolnshire, Northants, Cambs areas
Jeanette Pugh http://www.wildcreaturefeatures.co.uk 07815176137 - Leamington Spa / Warwickshire area
Frazie www.frazoo.co.uk 07788 610059 - Devon area
Tracey www.creepycrawlyroadshownorthwest.co.uk - North west area
Q. Are there any special instructions for unpacking my order during cold weather?
A. On receipt of your order it is very important to warm livestock slowly. The animals may be quite cold during transit, this will do them no harm providing that they are left at room temperature for an hour or so before being placed into their heated environment. They will have cooled down slowly and need to be warmed up slowly. Sudden changes of temperature may be harmful to cold blooded animals. During cold weather a heat pack will be included with all livestock.
Q. When should I expect my order to arrive?
A. Once your order has been processed you will receive an email informing you of the delivery day. You will also receive an email when your order has been despatched and delivery should then be expected the following day before 1pm. If you are outside the UK your order will generally arrive within 2-3 days (this can vary according to your country's postal system)
Q. Can you put special instructions on my parcel?
A. I cannot put instructions on the parcel for your postman, you may wish to put a note on your door (leave next door, come around to the back door, hoot horn loudly and any other requests). The parcel will require a signature.
Q. Can you save something for me?
A. Sorry I cannot hold onto stock, this is a question that I am frequently asked but items need to remain on my website to keep my automated stock list current. If I take something off, it is then not available for you or anyone else to buy. Things change on a daily basis so even if an item goes out of stock it may well reappear again very shortly.
Q. Do you sell praying mantids?
A. Very infrequently, I really love praying mantids but they are too much work for too little profit. I just don't have the time to keep them.
Q. Do you have any large beetles?
A. I rarely have large beetles as they are expensive for me to purchase and I have found that people are not prepared to pay the price that I would need to charge for them! I have also found that imported adult beetles sometimes don't live very long.
Q. Why is there a minimum spend on your website?
A. The minimum spend is set on the website as there is only one of me and it takes a great deal of time to pack my creatures for a safe journey through the post. I do not have the time to pack smaller orders, it is simply not cost effective.

---
These, I find, are the most commonly asked questions, I will add more as I am asked them or I think of them.
If you would like to ask further questions please feel free to call me on 01628 522632 or 07971 838724 (Monday - Friday / 8am - 4pm)