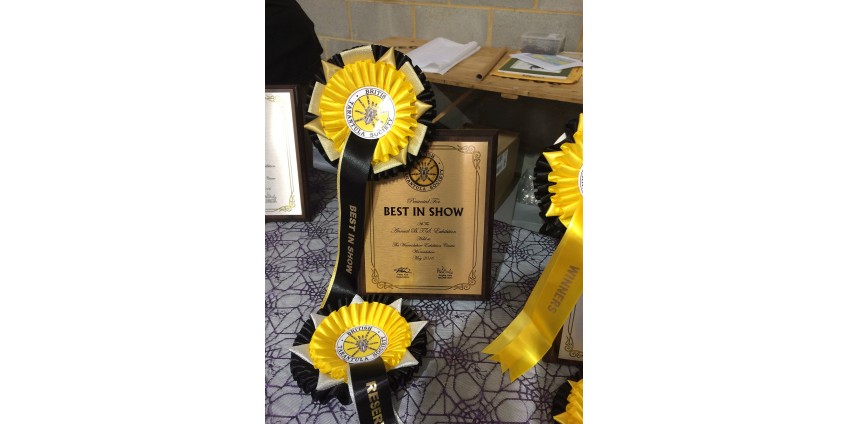 The BTS Show was super
Published: 27/05/2016 Comments: 0
The BTS Show was super. The new venue was excellent. There was plenty of space to move around and see everything and everyone. Sometimes bug shows can be terribly crowded with not enough room to move between the stalls. It often feels like trying to get a drink on a busy night in a bar, you can see what you want but you can't actually get near enough to place your order. I didn't do too badly at the show (I was repeating my mantra to myself – no more pets), I mostly stuck to my shopping list but I still spent several hundred pounds on new animals, so as you can imagine, I have been chasing my tail all week. I got some lovely bugs, tarantulas, jumping spiders, stick insects, snails (including two of the biggest snails I have ever seen, perfect for my bug parties – I think working pets are ok?), millipedes, scorpions, etc. I was so tempted by these gorgeous little crabs that I saw, they were so cute and their eyes were looking at me. It took a lot of will power to walk away from them. I would actually have had a couple if I could have kept them with my Land Hermit crabs but they obviously needed damper conditions. I put a photo on Facebook and it reached over 1,000 people so I'm not the only one who thinks they are adorable. A guy kindly identified them for me, they are Magadapotamon humberti, a type of Fiddler crab from Madagascar. One day I would love to visit Madagascar, they have so many unique animals there. The millipedes that I got recently are from Madagascar, they are stunning, especially the Red Fire and Giant Pill ones.
I had to take some photos at the show for the ladies in my keep fit class as they just wouldn't believe that there is a tarantula 'beauty' show and that the winners receive rosettes just like any other animal show eg. Crufts. I took some snaps of the "Best in show" rosettes and they thought it was hilarious. I'm always snapping away with my iPhone, I took photos of a stand selling spider cushions. The cushions weren't the usual cartoon spiders, they actually had proper spider faces. I wanted to buy one for our daughter as it was her birthday the next day but the price was rather off putting. I was looking at the stand before the prices were attached and I had planned to get one before I knew that it was £70. They were lovely but too much as an extra present and she was turning 24. I put a photo of these on Facebook too. I'm getting quite into this Facebook thing. I have started setting up my Ginny's Jungle parties Facebook page and my hubby is hopefully going to have a go at a simple website for the new business on Sunday.
It is my mother in-law's 80th birthday today so we are off up to London tomorrow. She has wanted to go on the London Eye for years but as she has problems with mobility it is going to be quite a feat to get her there. I have booked a pod, champagne and fast track so hopefully all will go well. I have to attend a meeting this morning (not work, for a friend in need) and then this afternoon we are having a tea party for mum in-law. I will then try my best to get on with some work Sunday and Monday and hopefully catch up a bit. I still have a few spiders in tubs from the show but I should get time to house them up properly today.
I'm very busy taking care of the animals but at least I have plenty of orders at the moment. It is horrible when I'm looking after everything but not selling any. Believe me, it certainly happens, especially in the colder months. I looked around at the exhibition and thought "I'm surprised I ever get any orders for spiders these days". There were literally thousands of spiders for sale at the show (ok, I know it was The British Tarantula Show) but there are a lot of people these days dabbling in this business. Long gone are the days when I was THE bug lady. Actually, although the venue this year was really good nothing will top the year when the BTS exhibition was held at Chessington zoo. I think it was actually more than thirty years ago (do I really want to admit that?) but it was the best venue ever, I think I spent a lot of that day going around the zoo while my good old mum manned the stall.
Anyway enough reminiscing, I've got to get a move on. I wasn't going to write a blog this week because time is so short but I know how many people enjoy reading it. It always amazes me but people tell me they do and I have a counter that logs the number of people who have viewed it each week. It doesn't say if they enjoyed it but there is always that delete button!
(I know the photo is round the wrong way but I don't know how to fix it, hopefully I will get it sorted later)
Comments