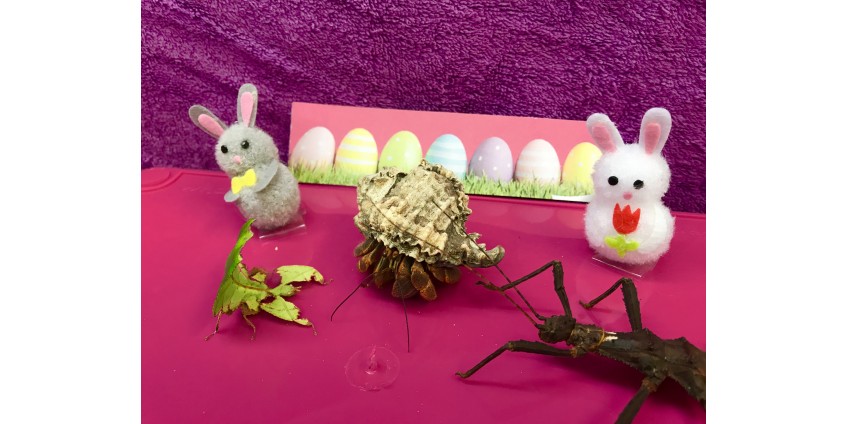 Spring at last, the clocks have sprung
Published: 28/03/2019 Comments: 0
Spring at last, the clocks have sprung. I love the warmer weather and sunshine, the bugs certainly appreciate it too! Everything seems to be pregnant or having babies, spiders, scorpions, millipedes, cockroaches – the list goes on.
I will be doing another large re-stock this month, as per my 2019 master plan I will be concentrating on spiders, scorpions and other creatures that don't take daily care. The Ginny's Jungle parties are going well, I am working hard to promote this part of my business and taking on quite a few free events to boost my profile locally. I have another library event coming up in a couple of weeks, different library, different rules, timed and ticketed. I won't be besieged by hundred of kids this time but of course, being me, I'm now worrying that there won't be enough people to make it worthwhile!
April is set to be a very busy month for me, I'm still really pushed for time and considering the future of this blog. I have actually been writing my blog since 2007 (I have just looked it up, I can't believe it has been that long). I don't know who reads it but I have a counter so I can see how many people read it. I would love to know who but it is beyond my website's capability (I'm sure there is a program but it would certainly be beyond my budget. At the end of the day, I don't need to know that badly). It's not just numbers but I feel it is all a bit too personal, I obviously can't talk about the people and problems in my life so at times the blog has been a bit of a challenge to write. Everything now is going really well, 2019 is turning into an exciting year (I can't divulge why until next month but I can say that it has nothing to do with my work or animals). I expect that with all my re-arranging this year there may be rumours that I am giving up my business but I'm certainly not, still 6 years until I get a pension and even then, I can't see me ever retiring. I'm going to be like an actor, work until I drop, I don't fancy retirement, it sounds boring to me. My gym has a new piece of equipment, it's brilliant it basically monitors everything about you (ok, an exaggeration, probably not everything). I love it, my vitals are all at the right end of the spectrum, my BMI is 22 and my metabolic age is 45! Quite honestly, I didn't take too much notice of anything else, those two readings made me happy.
Talking of health, I went up to London last month to see about having my eyes corrected. I have been thinking of it for several years, since I damaged my cornea taking out a contact lens (it really, really hurt!). I hate wearing glasses but I have now put the idea to bed. I would only be suitable for lens replacement and after the surgeon explained all the risks, I have gone right off the idea. I shall be buying a new, expensive pair of glasses because whatever they cost, it will be a lot less painful both physically and financially. I read about a woman in the Daily Mail last week who feels no pain and has the lowest score on the stress test ever recorded. I'm so jealous, she must be the complete opposite of me! People are always calling me brave because of my bugs but as I have said here many times before 'it is only brave if you are up against something that scares you and I love bugs'. People who know me would never call me brave but that does lead me onto some good news. I contacted my insurance company recently as several people have asked about handling a tarantula as part of my Ginny's Jungle events. I assumed that it wouldn't be allowed but I was wrong, I am indeed able to begin tarantula handling with my customers and therefore I can start work on my next project of 'phobia workshops' How exciting is that? Yes, I know, the drawback is that it will take more time. I should have started all this years ago, I'm the busiest 60 year old that I know but I guess that's why my metabolic age registered as 45, I never stop moving (my husband will vouch for this, it drives him mad). My husband in fact turned 60 last week and we had a super family get together, he can't keep telling people that he's a year younger than me now, the gap is actually 6 weeks.
Next issue – posting days? March was a really busy month and I managed to post out orders each Tuesday and Thursday as planned, plus non-UK parcels on a Monday, as stated in my terms. However, it has become clear that in most weeks I have plenty of orders to send on a Tuesday but have next to nothing to send on a Thursday (I had just one parcel to send on each of the last two Thursdays of March). This is a terrible waste of my precious time so I am thinking of only posting UK orders on a Tuesday. It is very complicated, in theory posting Monday and Tuesday sounds like an option but to post Monday I need to work Sunday and that isn't fair on my family. This is due to people obviously ordering more at the weekend but then there are often issues with mistakes or changes to orders, so I need Monday as a paperwork day to get things sorted before Tuesday. When I mentioned my posting days a while ago in the blog and asked for ideas a couple of people said that I should just stick with certain days as a permanent fixture but as I work alone this isn't possible. I have to alter the days sometimes for appointments that I have no control over and also occasionally for Ginny's Jungle events. I am really busy the week before Easter when posting orders will be a problem, especially as both Friday and the following Monday are bank holidays. Looking in my diary I may only be able to send out parcels on the Monday as I have the library event on the Tuesday, a bug keeper's event on the Wednesday and clearly can't post orders on Thursday as there will be no deliveries on Good Friday. It's difficult because getting everything out to pack the bugs is a major upheaval in my office and bug room, it takes a lot of time and makes a lot of mess that needs tidying up afterwards. Ok, writing this seems to have made me realise I can only post on that Monday 15th and I will have to work Sunday which is a shame as I'm out all day on the Saturday. If you are now thinking that at least I will get a break over Easter, I'm doing a birthday party on Easter Saturday and another Ginny's Jungle event on Easter Monday!
Well that's it, I'm sure I could think of many more things to say but I need to get a move on. I will of course continue with my bug photos and mini updates on Facebook. Do keep checking my website as I have lots of new and interesting little animals arriving in April and I will undoubtedly have much more to say in my next blog on May 1st
Happy Easter Everyone
Comments