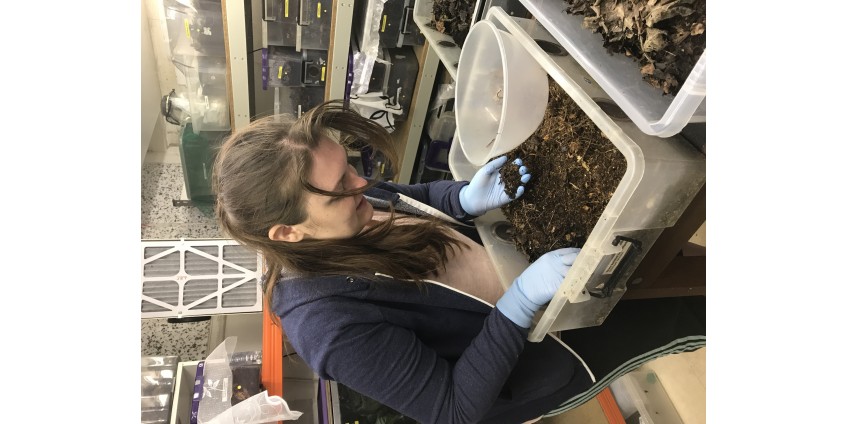 Never a dull moment
Published: 29/09/2017 Comments: 0
Never a dull moment. Last weekend I did a Ginny's Jungle party for an eight, year old's birthday. The children were very excited and thoroughly enjoyed seeing all my bugs and snakes. I have long since given up on taking any mammals to my parties, I really don't think they could handle the noise! My bug parties and visits are very popular and well received but I do feel I'm lacking when it comes to 'crowd control'. I certainly want the children to enjoy themselves and I don't think screaming out "for god's sake shut up" would go down that well. It's an area I clearly need to work on. I have a few Ginny's Jungle visits in the pipeline which is great.

This weekend I will be at the AES bug exhibition. I'm not selling just buying, mingling, meeting up with friends and customers. I have pre-ordered a few, sought after bugs and will be looking out for others on my 'shopping list'. People often laugh at me as I walk around with my clip board and lists but with all my animals I need the lists to keep me on track. In the past I have been known to buy the same spiders under different names and it is certainly easy to forget something that I really wanted or a person that I really wanted to speak to. I can't go too mad as we are just putting the final touches to our 'once in a lifetime' trip to Costa Rica. We will be away for two weeks in November and I don't feel it is fair to leave our daughter with too much. Spiders and scorpions can be pretty much set up to look after themselves, along with, millipedes and cockroaches but leaf eating bugs are out until I return. If you want something from me please buy it now as I won't be restocking again until the new year. I can't believe it is nearly Christmas, it seems no time since I was looking forward to Spring!
The Monday before last I spent most of the day going backwards and forwards to the farmer's field near our house where my daughter had found a swarm of bees as she walked Teddi. I had to spring into action as the bees were on the floor and just through a gate where everyone lets their dogs off the lead. I was worried for both the dogs and bees. Honey bees are such vital little creatures and are suffering so much these days. Yes, I know most people would have ignored them but I couldn't! Anyway, all's well that ends well. To cut a long story short, I donned my Amazon bought bee outfit (purchased last year to retrieve items from my shed that had a huge wasps nest in it), collected the bees in a box, sealed the box and gave it to a local bee keeper that evening. It really wasn't what I needed on a busy Monday! You may have seen my antics on my Facebook page, complete with video J
I mentioned social media in my last blog. My daughter had a couple of weeks off between jobs and as it coincided with my final operation it was very useful to have her around. One of the things that she did was to set me up on LinkedIn. We did have a laugh, I haven't found the time to really look at it so she is still popping in and sorting it with me. It has been good to reconnect with customers from years gone by and like Facebook I find it especially interesting to see what friends and colleagues are up to in other countries around the world. I seem to have lots of connections now, I just need to learn how to work it on my own. I think it will be useful for my Ginny's Jungle parties. I'm getting quite good with Facebook these days and do try to reply each day but most enquiries are primarily questions that could be answered by looking at my website. I haven't managed to get back into Instagram, and Twitter happily pops up on my iPad but I rarely use it.
Quick other bits of news:
My beautiful Indian Violet tarantulas finally mated a few days ago so hopefully I will have babies in a few months, with any luck.
I started a four week, evening class in Spanish this week, in preparation for Costa Rica! I certainly need to know how to ask "do you know where I can find a snake, spider, stick insect, lizard, frog?" J
I'm thinking of how I can tap into the Bio-Active market that seems very popular as a concept at the moment. I'm thinking of selling Wood Lice, they are just a damn nuisance in my bug cages but I love the fact that they can be sold as "the clean-up crew" and one of my customers said that they can go for as much as £20 a pot! Really?

Can't believe it, I have just had an email pop up with the last posting dates before Christmas and one of them is today (Far East & Middle East). I don't want to hear about Christmas yet!

Photo this week is of my daughter Georgie helping in the bug room. She is sorting out baby millipedes to go into a clean cage. She called it the "Where's Wally of entomology" (I did point out that entomology is insects and millipedes are not insects but she said that millipedes didn't sound as good!) - Oh dear, the photo is sideways, I forgot I need to use lengthways photos for the blog and I don't have any :(
Comments