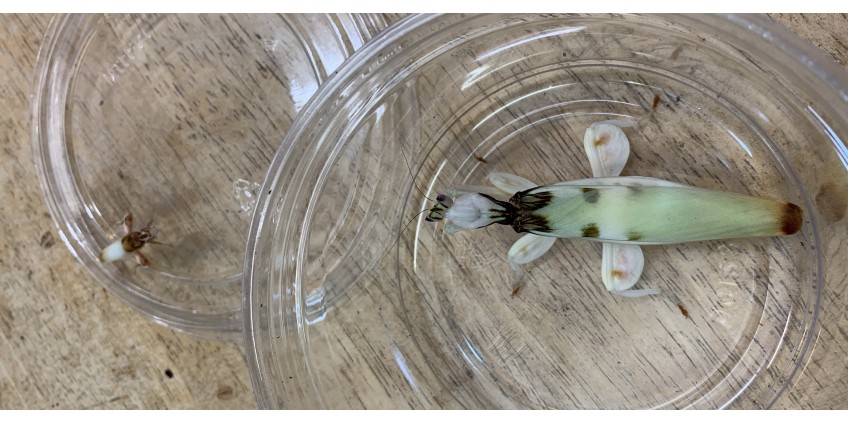 Mad May! Oh, what a busy month
Published: 03/06/2019 Comments: 0
Mad May! Oh, what a busy month, very productive, I'm going in the right direction. I have run a few Ginny's Jungle events recently but mostly I have been busy with the website and postal side of my business. I had a fun day out at the BTS (British Tarantula Society) exhibition a couple of weeks ago and purchased plenty of new spiders and bugs. It was a very well attended show, there were a huge number of visitors but also a very large number of stalls too. I saw some people that I hadn't seen for ages and had some enjoyable chats with everyone.
I returned yesterday from a long weekend in Dorset with my family. It was my 'big' birthday present from my son and partner and the idea was for everyone to look for Adders with me. Well we tried! As I suspected it was actually too late for Adders coming out of hibernation and a group of people with a large dog doesn't really work when you are trying to tip-toe around. I ended up with just my daughter helping me search and after several days of looking, we only saw one, well actually only I saw it (that is not several full days, that is an hour or two each morning!). We did see various lizards and had a truly super time. The hotel was great, very dog friendly and we were out and about each day. Teddi absolutely loved her holiday and was extremely well behaved. We were only away for three nights but it took a lot of planning. My mother in-law house sat and my neighbours came in to feed Barney and spray the bugs. I had underestimated how hot it would be at the weekend so when we got home I was in a panic about the temperature of my bug room. It was boiling, I find it so hard to give anyone instructions on the care needed while I am away. It is all so instinctive to me after so many years. I'm now going to look at getting a small air conditioning unit.
This is why I need to tweak my business, I feel like I have the weight of the world on my shoulders with all these little creature's lives depending on me! I need to cut them down to a more manageable number. Just before we went I sent most of my stick insects off to a large reptile supplier. I didn't have anyone to care for them, the spiders, scorpions, millipedes, cockroaches etc. are fine but leaf eating bugs need daily care. I love praying mantids and they are really popular at my Ginny's Jungle events, plus they are great for Facebook photos but I have too many at the moment, I got a bit carried away at the BTS show. I was however delighted to find that my male Orchid mantis had moulted while I was away. He is now an adult and hopefully a mate for Zoe, my much-loved adult female Orchid mantis (see this month's photo).
Ginny's Jungle is going quite well and I'm sure that it will grow as I become better known locally. I just need more time to devote to it. I did a 21st birthday party the day before we went to Dorset and I was really pleased with how well it went. I have my talk in the local library next week entitled "my life as the bug lady". I am a bit worried about this one as an evening talk to adults is rather different from parties, where everyone is up close and personal. I have pitched it as interactive and fun, hopefully nobody will expect an academic lecture. I have some pictures to show of things that I have done over the years, I'm not usually stuck for words! If anyone reading this wants to come along and is near enough, it is in the Bourne End library, Wakeman Road, Wooburn Green, Bourne End SL8 5SX. You would need to book a place, the library telephone number is 01296 382415. The date is Friday 14th June at 7.30pm. As I write this I have no idea how many people have booked, it was advertised in our village magazine that came out at the weekend, the library is shut on a Monday so I will pop in there tomorrow and find out. I don't want to be Billy no mates, I will drag some friends and family along if necessary J
I was just thinking "what else did I do in May?", so I looked in my diary. It seems ages ago but it was in early May that I took on a collection of tarantulas from a customer who was moving abroad for work. Some spiders have now gone, some are for sale on my website and others I am keeping! I went to a local reptile talk and now I'm feeling really guilty because I still haven't sent in a positive review as I promised to do, oops (it is on my to-do list). The guy is a local nature warden and looking for people to help with a reptile survey of the local nature reserves. That sounds like a job for me but not right now, I have put my name down for next Spring or perhaps this autumn. Jumping spiders! I must mention them, I was sent some newly hatched babies and a few juveniles, I then went to the BTS show and bought what I thought were a male and female pair of adults but it turned out that they were female and I was astonished to find that both have laid egg sacs. It's a good job that they are quite possibly my favourite spiders of all time. They are stunning to look at, so pretty, really cute to watch. I have set up a good colony of fruit flies and have my pooter at the ready. Actually, the pooter is in use now as the Indian grass mantis that I got from the BTS show are still feeding on them, they are very slender and delicate mantids. I can't wait to see them grow, the adult that I saw at the show was really unique looking. I have never kept this species before.
I will have to speed up now as my hubby will be in soon and dinner will need cooking, Teddi will need walking and I'm hoping to sit down a bit later and watch some telly. It's been a long day.
Wish me luck for next week, it is actually my practice talk for the women's Institute. I still don't have a date for my audition but I need to be ready. I have heard that they rate their speakers from 1-10, I really don't like the sound of that!!!
Does anyone know if Regal Jumping spiders are ok to handle? I know I could "Google" it but I just don't have the time today.
I forgot to mention Dracula! I bought a leech from the BTS show, my daughter thinks it is the most stupid idea I've ever had. I will tell you about it in my next blog (she could be right)
Comments