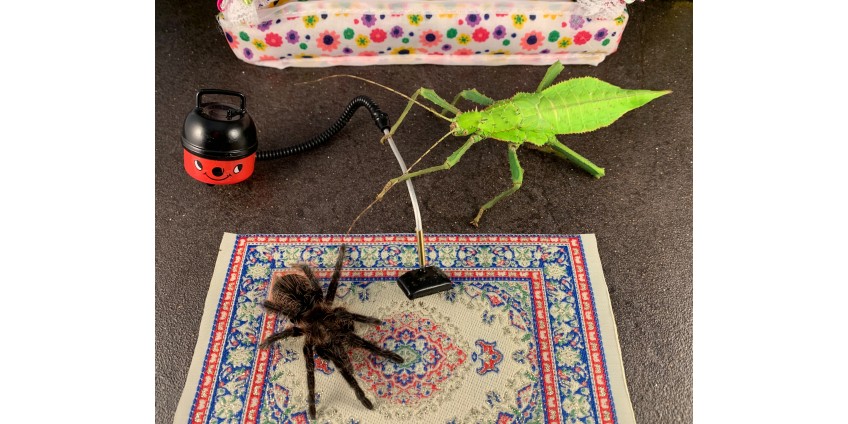 Life is good
Published: 30/04/2019 Comments: 0
Life is good, extremely busy but it's paying dividends at last. My bug room is looking good (literally as I have had so many visitors recently that I have had to keep it tidy), I have cut down on many of my bugs but I still have way too many. I have been running lots of special offers and have also sold a lot of my surplus stock to a large reptile supplier.
These changes have been a long time coming but I really couldn't keep going as I was. I am now able to devote time to promoting Ginny's Jungle and to getting this side of my business up and running properly. This last month has seen me take part in another event at a local library which will hopefully bring in new business and host children's bug parties and bug keepers experiences in my bug room. Just last week I had a young lady and her partner come along to celebrate her 26th birthday. Coming up this month I already have several events booked, one being a 21st birthday party. The following month I will be giving an evening talk to a group of adults in our library, entitled "my life as the bug lady". This will be a practice before my Woman's Institute audition.
Anyway, back to the bugs and spiders. I now have a lovely little praying mantis collection but these are only for sale to visitors as I just can't bear to post them. I am quite low on tarantulas as I have had a real run on them recently. Tarantulas are the one creature that I have no plans to cut down on. Sales are going well and they are relatively easy to care for. I will be increasing my stock considerably over the next few weeks. I will be receiving a lovely collection of tarantulas this Friday as one of my customers is moving abroad and sadly cannot take his spiders with him. If you would like me to look out for any specific species just let me know.
Talking of contacting me, do I dare say it, hmm - here goes, I really struggle with the amount of 'aimless' emails that I receive. Many are asking questions that can be easily answered by looking at my website, others are asking advice about something that they have purchased elsewhere, many are asking for care advice that is impossible without speaking to the person enquiring. I am always happy to answer any questions by phone but I am finding myself having to ignore many of these types of emails. I sometimes send out my 'cover all email' but I think it irritates rather than helps the situation. A quick chat on the phone is easy to deal with and if I'm busy I will always call back (so long as it is in office hours). Thankfully my iPhone is set to silent during the night, I actually had a call from Bolivia at 6am this morning! (assuming it was to do with my bugs, it could have been a sales call?).
I am once again deliberating about this blog, I have been writing it for so many years but I do wonder if it has had its day (12 years is a long time). I know there are people who enjoy reading it and they don't want me to give it up but I think that Facebook is gradually taking its place. I have been monitoring the blog and it is actually only read by a couple hundred people each month but one post on Facebook can reach a couple of thousand. It's a dilemma indeed.
Anyway, on a happier note. I'm off to Dorset in a couple of weeks to look for adders and this year my family are coming too! It was my birthday present, even Teddi gets to come. Snake hunting is compulsory for my husband, son and daughter but my daughter's boyfriend says he's in charge of Teddi and my son's partner is pregnant so perhaps she shouldn't get too close (it was Lucy who got bitten by a Bullet ant when we were in Costa Rica!!!). This exciting news is of course what I wanted to say in last month's blog but it was still a 'secret' at that time. The baby, due in early October will be our first grandchild, we are all over the moon. As you can imagine it has taken some organising to arrange the care of my bugs with us all away but my mother in-law will be here and my niece and boys will be in charge of animal care, they absolutely adore Barney. I am only away for three nights!

This month's photo: Spring cleaning with the bugs.


Happy May everyone, a lovely month for animals, plants and people too.
Comments