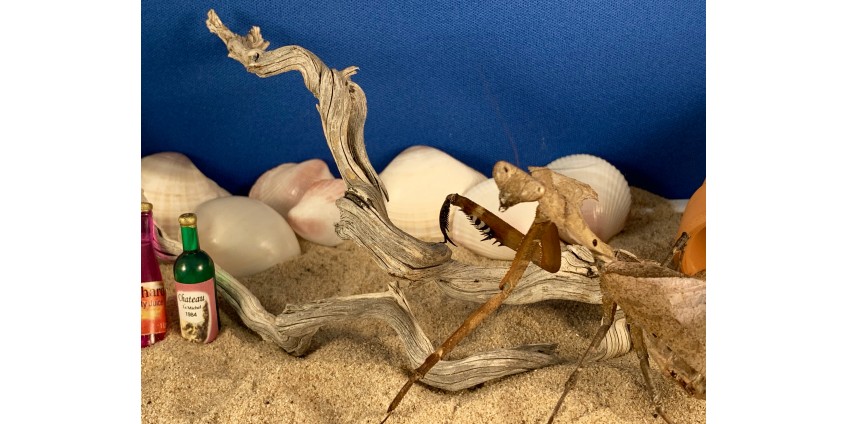 Infamy, infamy, they've all got it in for me!
Published: 28/01/2022 Comments: 0
Infamy, infamy, they've all got it in for me! For those of you who don't know the quote, it is from Carry on Cleo and voted the funniest one-line joke in film history. It sums up just how I feel at the moment. I'm limping along, hoping 2022 will be better and I can't wait for January to be over, it has been a horrible month both personally and from a work point of view. I have had so many people (ok - 3 or 4) having a go at me this month, complaining to PayPal (I have never lost a case, if people read the info on my website or contacted me in advance, they wouldn't be disappointed with the size or number of anything because it is always as described). Having to cancel an order due to someone being just too demanding to deal with and then so furious that he threatened physical assault on the phone and I've even been dealing with a keyboard warrior from the council regarding animal licensing (I have put in an official complaint as the guy is good at sending nasty emails but seems unable to talk on the phone). I'm not good at dealing with bullies. I always do my best and the vast majority of my customers are lovely and appreciate me. I know this because I get lots of emails telling me and lots of super reviews posted on my website J
On a sunnier note (only 50 days until Spring!), it is the long-awaited SEAS show this weekend and I will be having a major restock in the hope of turning things around this year. It is my favourite show, a lovely venue and organised by a super group of guys. It will no doubt be fun, if you see me walking around with my now famous purple clip board, do say hi to me. It is always good to catch up with customers and put faces to names. I need my clip board for my long shopping list and to keep track of my buys. It is a nightmare to get home and find that I don't know which spiderlings are which, I have done it and it's then a long wait until they grow and I can see what they are. I do like a list and my current one is pretty long, spiders, scorpions, snails, cockroaches, stick insects, praying mantis, etc.
I have restarted Ginny's Jungle encounters and have a few bookings coming in, which is great. I need to make time for this side of my business but at the moment I am concentrating on the postal business. I love face to face but breeding bugs is my bread and butter job. It is such a shame (I think!) that we left Europe. Not only have I lost all my European customers but the European traders will sadly no longer be able to sell at the SEAS show. The show was very well served by these traders (many of them I consider friends) but they can no longer just cross the border with their vast collections of tarantulas and other creepy crawlies.
My bug room is looking good and all is doing well. I have quite a few little animals that I am hoping to breed, these are obviously not shown on my website but I have various spiders and scorpions, plus other arachnids. I am trying to keep everything tidy and clean, it's an almost impossible task but I do hate working in a mess. I don't have a lot of visitors to my bug room at this time but it always helps when I know someone is coming as it makes me tidy everything up!
I have just read back on my last blog entry and it made me laugh. I clearly thought that I was immune to the virus as most of my family had it and I didn't but it got me in the end. I had Covid at the end of November, thankfully I wasn't too bad. I had a cold, was shattered and lost my smell and taste. As from today we no longer have to wear masks but I know a lot of people will continue. At least it will be a case of personal choice and hopefully the start of a more normal world again. I have a visit booked to go into a care home, the first since Covid began. I have been asked to wear a mask, gloves, apron and social distance from the residents, I am of course happy to comply but it certainly won't feel normal. I am however confident that I can make it fun for all.
Photo: A bit of fun for a gloomy January
Comments