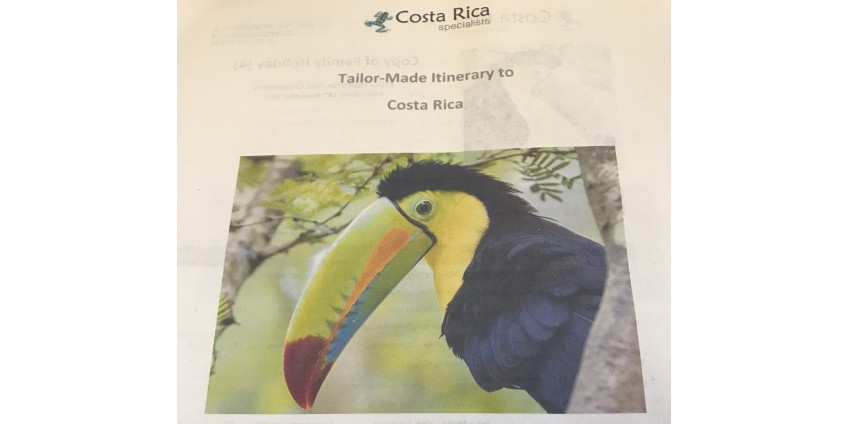 I'm off to Costa Rica!
Published: 09/11/2017 Comments: 0
I'm off to Costa Rica! Off on the trip of a lifetime next Saturday, with my husband, son and his partner. Our wonderful son is treating us as, we as a family have had such a terrible last year. We are touring around for the first week and relaxing on the beach for the second week. We will be visiting all the places that I've been told there are tarantulas, snakes, frogs, iguanas and bats (all the things I love). There will of course be lots of other animals to see and really, I love them all. Costa Rica seems to be famous for its sloths, which it seems are everywhere. I'm a bit luke warm when it comes to sloths, they are slow moving and full of fleas from what I've heard. Neither of these attributes really endears me to them but I may come back a convert.
Orders have been very slow lately, as is always the way before Christmas and then (at the coldest time of the year) everyone seems to place orders as soon as the celebrations are over. This year I'm taking a bit of me time over Christmas and won't be restocking until the new year. I honestly can't see a point to ever having the huge number of species that I have kept in the past. The orders just aren't there these days so I'm anticipating running the online shop alongside my Ginny's Jungle venture. I will try to be more specific when restocking, especially when it comes to tarantulas. I don't want to buy large numbers of cheap spiderlings and grow them on for sale. These days I just spend months looking after them, both time and money, only for them to be unsellable at the end. I will however be restocking the more sought after, brightly coloured and 'friendly' species. At this present time, I am just concentrating on selling anything I can before the holiday. Please do check out my "Amazing Super Bargains page", I'm practically giving away my surplus animals! My daughter will be looking after everything while we are away but although she does her best, it is pretty alien to her and it is hard for me to write instructions because after all these years it just comes naturally. I instinctively know if a cage is too dry, too damp, too cold and if the food needs changing! I am always here so I'm not sure exactly when things need to be done, it is difficult to predict when something with need attention and what attention it will need. I will however make sure that she knows which plants to feed to the stick insects. When we went to Cyprus in the summer she spent ages gathering bramble when she could have used evergreen oak (growing in the garden), Eucalyptus (also in the garden), Ivy (plenty to be found in the woods just across the road from us), if she had known what they were!
Yes, you can probably tell that I am panicking a bit (quite a lot) at the thought of leaving all my precious creatures behind for two weeks and that's just the bugs, don't get me started on Teddi, my four snakes, my rats and all my much-loved plants in the house and greenhouse. Calm – "it will be wonderful and I'm sure everything will be fine", that's what people keep telling me.
Short of time (as usual) but I will have plenty to say when we get back! I will be taking photos of everything and updating my Facebook page regularly (as long as there is internet connection).
Lastly a moan – Why do some people feel the need to fire off a message with no thought or care at all? I have had a few lately, one guy asking me why I sell my tarantulas at double the going rate, did he really want a reply to that? Then I had an email from someone telling me that my spider names were confusing as they hadn't been updated. I wrote a reply saying that I would happily update anything that is incorrect but I would need to know what it was first. It was a complete waste of time as it appears the person had filled in the email address incorrectly on my site so the email came back as unknown address.
On the plus side, nobody has complained that I am now using plastic milk bottles to send out a number of bugs. The neck is quite narrow so you will either have to wait for the bugs to climb out, give the bottle a few taps to tip them out or cut open the bottle. Whichever method is used I'm pleased to say that nobody has moaned and even better, nobody has reported any losses or problems at all with this method. It's a shame that I can't get any plastic sweet jars these days, I have found some plastic biscuit tubs in the Pound shop but of course these do cost £1 each!
Also, a quick thanks to all the people who take the time to write a review for my website. I appreciate each and every one of them!
Goodbye – Back after my Costa Rican adventures!!!!!
This week's photo – Costa Rica, what else could it be
Comments