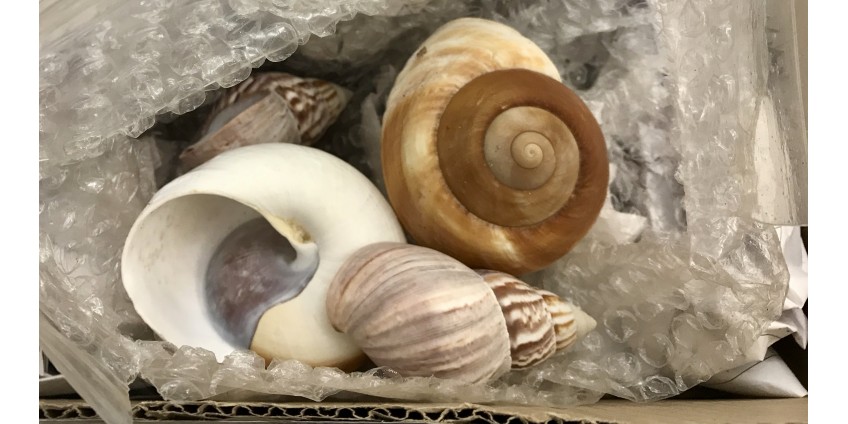 Happy New Year!
Published: 03/01/2019 Comments: 0
Happy New Year! Let's hope this year is full of happiness, good health and a bit of wealth wouldn't go amiss J. Talking of going amiss, I hate Royal Mail. I have been a loyal customer for more years than I care to admit and they really let me down over Christmas. There was clearly some sort of breakdown with the tracking system on the Monday before Christmas and only half of my parcels arrived the next day. The weather was pretty mild, they were well packed so not too much of an issue but then it appeared that they were lost as the only information showing, was when I dropped them at my local post office. There ensued an epic ordeal for me and those customers affected. I visited my local post office, spoke to staff, was on the phone to Royal Mail for hours and all to no avail. It seemed to me that a bag of parcels had been stolen as I knew that two bags were collected from the post office and then one disappeared off the radar. To cut a very long story short - the parcels have now been received and all the bugs miraculously survived. My customers were however greatly inconvenienced as was I and to add insult to injury I then received a huge phone bill of £62, which Royal Mail point blank refuse to pay (I thought 0845 was free and was in too much of a panic to think of checking). I do not wish Royal Mail a Happy New Year!
Apart from the Royal Mail incident, Christmas was lovely, we did lots of socialising with friends and family, I am now approaching 2019 with renewed energy and optimism. January is always a very busy month and the time for re-stocking. I actually took on a large spider collection just before Christmas so there was a lot of housing, feeding and re-organising of my spider shelves before the big day. Everything is now up to date on the website and I have some new, stunning tarantula spiders. I have decided that arachnids are where it's at this year so I will be buying in a number of brightly coloured and more sought-after species in the coming weeks. I need to concentrate on breeding more bugs and buying in less. I have to balance my books better and re-dress my home/work life. I'm sure some people think I have a team of helpers but honestly, it is just me! I love the bugs I cannot continue to work so hard for so little. My family, especially my hubby despair when I spend all day either in my bug room or on my computer. I have decided that each Wednesday will be Ginny's Jungle day, one day a week where I concentrate on that side of my business. To keep going I need to diversify and that means spending time promoting my local animal events. I've altered course before and hopefully I can do it again.
The bug room is looking pretty good, Barney has decided that he isn't going to stay in a cage when there is a whole world out there. He scratches for me to open his door and then he makes his way down the little ladder that my hubby made him and runs around the bug room. When he has had enough or starts to feel a bit chilly he makes his way back up the ladder and suns himself under his heat lamp. I always put him away at night but he is out most of the day unless I am really busy and then I have to put him in his cage or I worry about treading on him. He is not at all shy and keeps popping up under my feet! Will he come when I call? I'm not sure yet, he did pop out when I called a few days ago but was it just coincidence? Time will tell. Let's face it, I'm still working on Teddi's recall and she is eight now J
Some of my millipede boxes are looking a bit? 'Less than fresh', I would call it. I know they like damp, dirty areas but I'm planning to have a mass clean of my millipede boxes this month (a pre-Spring clean). I collected a huge stash of fallen leaves in the autumn, thanks to my new leaf 'hoover'. It is a difficult job to clean out the millipedes and very time consuming as I don't want to accidentally throw out the eggs and tiny babies. I wish the boxes weren't so heavy and awkward but millipedes must have a deep substrate to moult, so the boxes need a good layer of peat (that reminds me I need to order a new sack from Amazon, sadly the only place I can get it these days).
Lastly a couple of super emails from my lovely customers, which made me happy J
Firstly, from a couple who sent me photos of their Indian stick insects (unfortunately can't put the photos on here)
Hope you have a great Christmas and a wonderful New Year!Thought you might like to see a pic of our oldest stick bug to date - hatched from an egg laid by one of the nymphs you sent us. He's Mr Bug (Amberle before we realised he was a boy!) and he lived for over 16 months (thirteen months adult and 494 days in all; not bad for a little guy!)He and his little brother The Sultan (475 days) both outlived all their original girls. The Sultan just liked to hang out with his colony/harem, but Mr Bug loved attention and loved having his photo taken :)
He was almost fourteen months old when I took these pictures (the girl's one of his second harem)
Secondly from a great guy who replied to my desperate plea on Facebook for larger shells for my biggest Land Hermit Crabs. This week's photo is of the 'Christmas present' that he sent me.
Glad to hear they arrived safely, and hopefully your hermits use them :)No need to cover the postage costs I was happy to send them to you, over the years you have often added extras to ordered items so just returning the favour.Hope you had a restful Christmas and new year, happy bug keeping for 2019!
Thanks again to everyone for supporting me in 2018 and here's to a successful 2019 – Cheers! (mine's a Bacardi & coke)
Comments