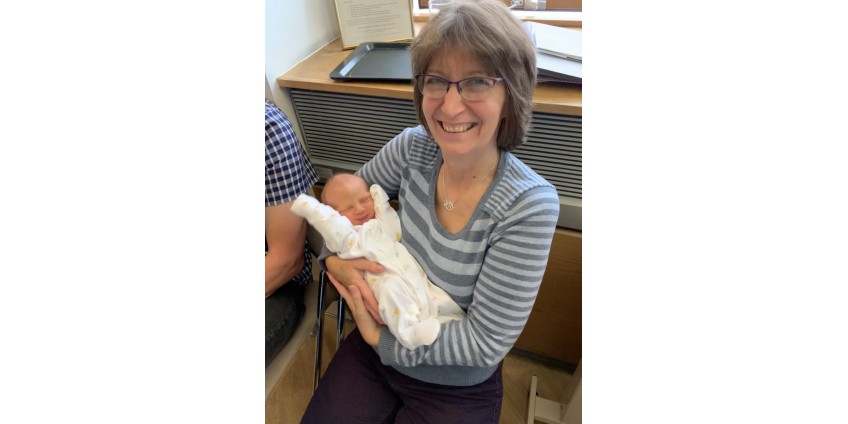 Happy Days!
Published: 01/10/2019 Comments: 1
Happy Days! I'm a Nanna at last, I have waited a long time for this to happen. I had my son at 18 and he had his son last week at 42! Of course, he is gorgeous beyond belief and the family are all doing well. I want to be called Nanna but all the family have christened me Nannie bugs!
My bug family are also doing well, although I'm not sure what happened to my customers in September? It was a very poor month for sales, made all the more difficult by the fact that I spent a fortune re-stocking for the Winter ahead. I certainly have some great bugs and very many beautiful spiders and scorpions. I will continue to concentrate on the arachnids, I feel that there is so much more to learn about scorpions. I really like scorpions but their care is far more complex than tarantulas. Tarantulas demand very little but with scorpions, they do not thrive without the right conditions in place. I realised, when out in Costa Rica and seeing scorpions in the wild, that they are very active creatures and travel a long way each night. I don't feel that keeping them in boxes is the best thing for them, sadly space is always a problem for me in my bug room.
I have a pet Asian Forest scorpion that I call Ellie, I bought her from an exhibition at least two, maybe three years ago. I named her Ellie after the comedian Ellie Taylor, when I had met her while filming for a comedy show. She really seemed to like the scorpion so it seemed like a good name. I have taken Ellie the scorpion along to many Ginny's Jungle events, she is a lovely specimen, always calm and happy to have UV torches shone on her so that the children can see her glowing aquamarine in colour. I have told countless numbers of children and adults too, that Ellie was pregnant and about to have babies soon. I was beginning to think that Ellie had just eaten a bit too much but a couple of weeks ago I went to get her out of her tank for a party and as I moved her cork bark hide, I realised that she was covered in babies. I was really surprised, she hasn't been near another scorpion in years, it's amazing that she could remain pregnant for all that time!
My long-awaited nose operation is due to take place later this month, I'm just hoping I don't get a cold because it would then be put off again. It was put off back in June because the surgeon had a special case come in. It's not a big operation (I need the septum repaired, no more jokes about Daniella Westbrook!) but it will mean at least a week off to recover and I cannot lift anything heavy for a while. It will be a nuisance but I'm sure it will be worth it in the end. I won't be announcing the date in my 'pink information box' as I generally do. I have decided that the information box actually works against me. I have been using the box on my website for years but I must admit that the main news is often about when I'm going away. I think people just glance at it now and think that I'm not there so they won't order. I tested it out recently. I put a notice on about re-stocking for the Winter and having plenty of bugs for sale. It was intended to prompt people to buy but it seemed to have the opposite effect as I had far fewer orders come in. I then took the pink box off the site and received two orders very soon afterwards. Oh well, another good idea bites the dust J
My hubby has always said that it isn't very sensible to tell people that I am going away, so now I won't. The house is never empty with all my animals but he is probably right. When I went away with my mum in-law in August he put an out of office notice on my emails and that seemed to work ok (I would say that I put it on but I wouldn't have a clue how to, my computer is an Apple Mac and even my hubby says it isn't an easy task). Sadly, if the operation goes ahead, I will miss the AES exhibition this year. I have been attending the exhibition at various venues for what seems like a life time and quite frankly I expect that many of you reading this would not have even been born when I started attending J
Well I need to get a move on, writing a monthly, rather than weekly blog means I have so much to say but never the time to say it all! I will just say Happy Halloween everyone, I really love Halloween and last year we were in Costa Rica. They know how to celebrate Halloween out there, it was spectacular. I hope to go back next year sometime but I would need to cut down considerably on my bugs as my poor daughter really did find it all a bit too much last year. She works in a school, is studying to become a youth counsellor and looking after all my bugs, pets, Teddi etc. was tough. Two weeks is a long time but being so far away it is difficult to go for less time. I might of course win the lottery by then but there again J J J (dreaming is good).
Little Bob is like a lottery win – here he is, I really couldn't put a photo on of anything else this month! I'm sure I will have some snaps of him with the bugs pretty soon – watch this space.
Comments