Ginny's Jungle Parties and Encounters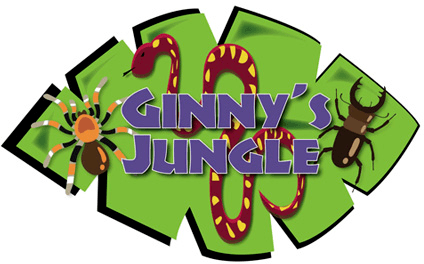 NEWS - Ginny's Jungle Parties and Animal Encounters

Sadly, I was not able to restart Ginny's Jungle after the global pandemic, I tried to begin again in October 2021 but it was an uphill struggle and I had to make the difficult decision in March 2022, to close for good.
I have returned with gusto to my thriving postal business but I do enjoy face to face interactions so I have replaced Ginny's Jungle with "Events with me and my bugs"
The events are shown under the category section of my website, it is a scaled down, less ambitious, more personalised service and in most cases a cheaper option than Ginny's Jungle.
Onwards and upwards as they say!
Most people know me as Virginia Cheeseman, this is my full name and the name I have been working under in my home bug business for more years than I care to remember. However, friends and family know me as Ginny and when out and about with my animals, I thought Ginny's Jungle sounded just right! (I really don't mind which name people use).
My business has changed with the times over the years and continues to change. Alongside my postal business, I enjoy face to face encounters and am happy to discuss any special requirements that you may have with the bugs/mini-beasts, I'm open to suggestions for anything not covered here such as phobia workshops, friend's get-togethers, children's therapy sessions.
I keep a large collection of invertebrate animals as you will see from looking around my website. I actually supply animals to many animal encounters companies around the country, my stock is constantly changing so I always have something different to show. Some bugs that I always have available are Giant African snails, stick insects, giant tropical millipedes, Hissing cockroaches, tarantulas and scorpions. If you have a favourite bug, just ask, I may well have one.
I am DBS checked, fully insured, have had all my covid and flu vaccinations
Please feel free to call for a chat about your requirements.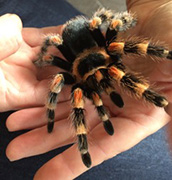 ---