Tuesday 31st March
UPDATE: I cannot believe that it is only one week since I posted out any bugs, it seems like several weeks ago! Everything is changing daily and none of us really know what's coming next. I am hoping that I will be able to resume sending out orders after the Easter break. I will of course update you further with any news. Stay safe everyone x
Tuesday 24th March: I would just like to say a big thank you to my lovely and loyal customers. I really appreciate you all, now more than ever! I have decided that I cannot carry on posting orders for the time being, quite frankly I can't take the stress. Royal Mail cannot guarantee to deliver by 1pm the following day and I really don't want my creatures held up in the mail and the added worry that it would cause my customers and myself. I will of course still be looking after all the animals but I also have people who rely on me for their care and I need to prioritise at this scary time. I am happy for people to collect from me (I will pack the animals and have them ready for contactless collection / no minimum spend). You can ring through your order and pay cash.
I will review the situation every few days but I cannot see anything improving anytime soon. You are welcome to phone me for a chat, I will be updating my Facebook page and writing a new blog entry shortly but for now please take care of yourselves, stay safe and sane. Thankfully my husband has a secure job but I know only too well that those who are self-employed or have been laid off due to the virus will be suffering, along with those people who are elderly and isolated. Perhaps I can do some videoing in the bug room and set up my mini scenes with the bugs to cheer things up just a little.
I have written and uploaded a new blog entry for my website today (for those who are interested :)
Ginny's Jungle Parties and Encounters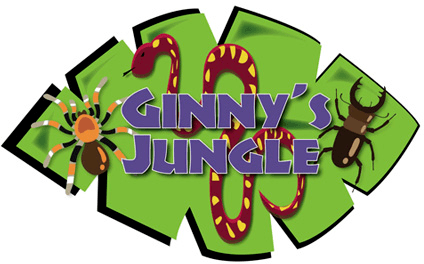 Welcome to Ginny's Jungle Parties and Animal Encounters


Most people know me as Virginia Cheeseman, this is my full name and the name I have been working under in my home bug business for more years than I care to remember. However, friends and family know me as Ginny and when out and about with my animals, I thought Ginny's Jungle sounded just right! (I really don't mind which name people use).
My business has changed with the times over the years and over the last couple of years I have been running my animal encounters alongside the postal supply business. You will see below the current options for my encounters, from parties to school visits and 50+ groups to residential homes. I am quite happy to discuss any special requirements that you may have with the bugs / mini-beasts, I'm open to suggestions for anything not covered here such as phobia workshops, friend's get-togethers, children's therapy sessions.
I keep a large collection of invertebrate animals as you will see from looking around my website. I actually supply animals to many animal encounters companies around the country, my stock is constantly changing so I always have something different to show but I also have a collection of my pets, that are not for sale (these include a small collection of reptiles). Some bugs that I always have available are Giant African snails, stick insects, giant tropical millipedes, Hissing cockroaches, tarantulas and scorpions. If you have a favourite bug, just ask, I may well have one.
When my children were younger they would often help me with the animals and come along on visits. My daughter Georgie is still living at home and helps with the day to day running of the business, she sometimes accompanies me on animal encounters when time permits. With all these animals I would never be able to go away on holiday without her being here to care for them.
Our encounters are very much a hands-on experience, although not all animals are able to be held, many are happy to be handled, we aim to make each visit fun for all. We have a lot of experience with children of all ages (my sister has 12 grandchildren ranging from 0 years – 16 years and we see a lot of them!). Sept. 2019, I now have my first grandchild, he was born on 27th Sept. 2019!
Georgie and I helped to start up a local youth club in our village and we also have experience of caring for elderly members of the family. My daughter currently works within the school system as a cover supervisor and is studying to become a youth counsellor.
We are DBS checked and Fully Insured
Please feel free to call for a chat about your requirements.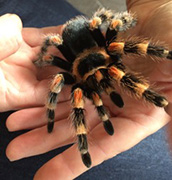 ---