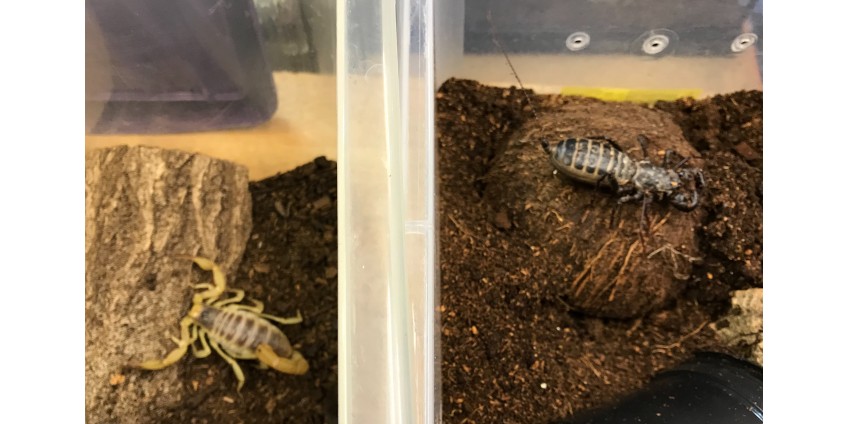 A productive week
Published: 04/10/2018 Comments: 0
A productive week, still not a lot of orders but I feel like I have got lots done. I have a daily tick list (most of you will know by now that I love a list) and this week I have managed to complete that list every day J This might not sound amazing to you but it is a rare event so I'm feeling quite smug.
Tomorrow is the AES exhibition, the only show that is truly dedicated to insects, other invertebrate animals are permitted but essentially it is insects and the show has been going forever (well I've been going each year since I was a teenager and that's a long time ago). There are obviously live bugs but also set specimens, cages, books and all manner of things bug related. It is a great chance to catch up with everyone and I am thoroughly looking forward to it. However, my famous shopping list and clip board will be staying at home. It is only a couple of weeks until we are off on holiday (did I mention I was going to Costa Rica? J J) I will be buying equipment, chatting to friends (feel free to come up and say hi) but I must not get any new animals! My bug room is still full after the recent Bedford show and I cannot leave my poor daughter coping with anything new, plus the fact that I will need to clean and feed each and every animal that I have in the two days before I go and repeat the process upon my return. This is always such hard work but essential as nobody else is going to do it and I don't want my 'little friends' to suffer because I am going away on holiday.
I will write copious amounts of instructions as I always do but things change daily in my bug room and if I can't see it then it is hard to know what needs doing. When I went away in the summer with my mother in-law the weather was incredibly hot and at this time of year the temperature may well turn very cold. I am assured by 'my friend Bryan' at Southern Electric that the recent spate of power cuts is over and the final repairs have been carried out. Believe me I have his mobile phone number and will be calling him from Costa Rica if I need to. We do have a generator if necessary, a very loud and difficult to start contraption but I'm sure that my daughter's boyfriend could get it up and running if needed. My daughter said that she will FaceTime me so that I can see anything that she is unsure of, we will see how that goes!
I am sorry that I will be away for Halloween, I love Halloween, all that dressing up and my favourite animals displayed in the shops (rats, bats, spiders, cockroaches, snakes etc.). I know they celebrate Halloween in Costa Rica, I saw a photo on the internet of our hotel decorated last year. If I have my way I will be leading walks around the gardens to encourage everyone to appreciate the local, real life creepy crawlies. I have bought ultra violet torches this week for scorpion hunts. I posted a photo of my first adult Giant Spiny Assassin bug on Facebook this week and it got a lot of attention. They are stunningly beautiful, I have lots of nymphs that I have purchased from various suppliers but I haven't yet bred any myself. I have another two sub-adults so fingers crossed that I end up with both sexes. Someone pointed out that they were perfect for Halloween with their black and orange colouring. I always sell lots of Hissing cockroaches at this time of year, if you want some you will have to order early. My last posting day before the holiday will be Thursday 18th.
I wrote last week about us having a smart meter fitted by the electricity board, well it has been a laugh. We are all moaning at each other for leaving the lights on, the television on, re-boiling the kettle but there is no doubt that the thing that gobbles up power is heating my bug room. There's not much I can do, they need to be tropical all year round so "get over it family". I think I might cover the display on the meter. Another amusing family debate this week centered on me having a free tank that doesn't fit in the bug room as it's too big but does fit in the dining room, next to my snakes very nicely. I gave my family the choice of a stunning Giant Vinegaroon or a pretty Desert Hairy scorpion, my daughter walked off tutting and my hubby declared that he didn't want either in the house, let alone the dining room. Anyway, in the end he chose the scorpion because he couldn't cope with the Vinegaroon, he actually called her 'that revolting thing'. I would have chosen my stunning Vinegaroon, I am hoping that both are gravid. The tank is really nice and it's a good size. I don't think my daughter's boyfriend has noticed yet and I think it is best not to tell him. He doesn't officially live here anyway, he just seems to be here every day J
Comments