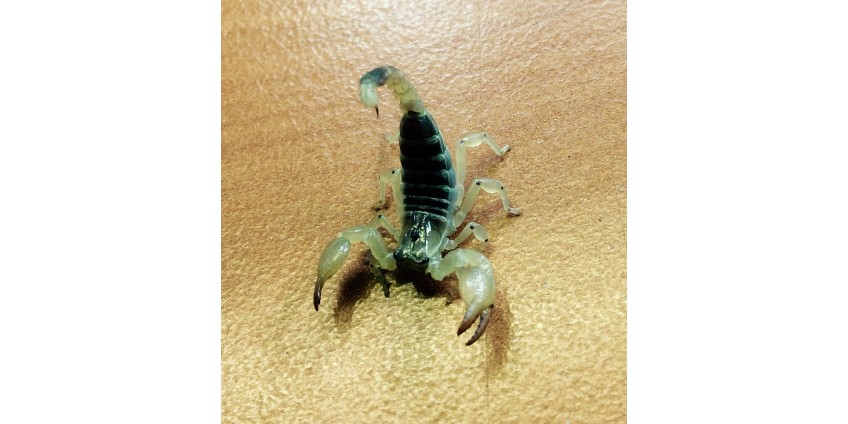 A cold and wet start to Spring here
Published: 08/04/2016 Comments: 0
A cold and wet start to Spring here. I can't wait for our trip to Cyprus in a couple of weeks, I'm really busy preparing everything. We are going for 10 days rather than the usual 6-7 days. Although my daughter and friend will be here looking after things I don't let anyone else touch the spiders and scorpions so they will all need to be set up to look after themselves before I go. Hence my major tarantula sale! Things are going well but I still have many more than I would like, if you see a spider that you want but it is too expensive please do ask if I can reduce it. I certainly will if I can. I am doing my best to improve the information on my website and I do feel that it is getting better and better. My poor web guy Simon has a lot to put up with, I seem to be constantly on the phone to him. I have a list of about five questions to put to him today. He always answers the phone with "Hi Virginia" in a cheery voice, I'd hate to know what he really thinks, probably "oh no, it's her again".
The information that I put on each and every spider about sizing and sexing has certainly paid off. The daily questions have almost stopped, this may in part be to do with turning off the Facebook messaging. I thought it might look rude but I have had no negative comments at all. I'm delighted because I'm sorry to say that most of the masses of Facebook messages that I received were asking questions that were answered all over my website, my Facebook page now links people directly to the site. I am always happy to talk to people on the phone, if I'm busy I will call back but the stream of electronic messages takes up way too much of my time and if I am ever going to get my 'Ginny's Jungle' parties started I have to free up some time (the days are just not long enough). I would have put an Emoji here but 'Super Simon' says it isn't possible to add them to my website L
Everything is going well in the bug room, it actually looks pretty damn tidy for the end of the week. Usually on a Friday I have a big clear up before the weekend but I have been doing a bit each day and having sent out lots of orders, I can see the benefits of having a reduced number of animals to care for. I am absolutely determined to cut back on numbers for a bit or I will never get started on my kid's parties idea, it will soon be Winter again!
I do think that the tarantula market is somewhat flooded at the moment, there are lots of people dabbling. I mentioned the SEAS tarantula show, at the end of January in my blog before. I stayed at the hotel where the show was held and had dinner with some of the stall holders and committee. It was interesting to hear that everyone's sales were down and it really got me thinking. I need to concentrate on the more obscure, sought after tarantulas and stop wasting my time on the more common species. I can't help looking after all my little animals to the best of my ability. My husband is constantly saying that I give everything my all and that I should prioritise and I know he's right but I'm not very good at it. It is sad that I am "stuck" with so many beautiful, healthy tarantulas that nobody wants. I am practically giving away the Orange Baboon, Kilimanjaro Baboon and Curly Hair tarantulas because I have too many. It is crazy to just hang on to them all but I don't know what the answer is? I have all but cleared my adult male tarantulas this week but I had to sell them at a fraction of the price that I paid for them.
Millipedes are very popular at the moment and I like millipedes, cockroaches are selling well and I've always loved cockroaches (many of them have really cute faces). My various baby scorpions are going well too. I don't have a huge number of leaf eating bugs left which is good because I can't set them up and leave them as they require a constant supply of fresh food. I will be re-stocking my leaf eaters after the holiday, especially some of my favourite stick insects. Stick insects were what I started my business with, my first love as it were.
I had a nice day off on Wednesday with my great nieces (you may have seen the post on Facebook). Actually my great nephew was here too but he's almost 13 and spent the entire day in the front lounge on his XBox so he might as well not have been here. The girls and I had a 'real animal day'. We started off walking Teddi in the park, then we went to Pets at Home for cricket supplies and other bits. We then came back and bathed the snakes and then cleaned out some of my ponds, which was a mammoth task. It kept raining and the reeds that I needed to remove were far to heavy for me to lift (why do I bother with that gym?). I kept chopping into them and removing bits but in the end I had to wait for my hubby to get in from work and help. Every year frogs lay huge blobs of spawn in the fish pond and the fish eat the tadpoles. I hate it and always try to rescue some. The major problem is newts. Gorgeous as they are I have far too many, they have colonised my wildlife area at the bottom of our garden and they too eat tadpoles! I decided to clear two of the ponds of newts but it wasn't a huge success, there is nothing I can do to stop them walking across the garden, back to their preferred pond. Anyway I tried and I still have a load of frogspawn on the table in my office in a bowl. Yes, I am indeed mad and I try so hard to be sane! (if you want any tadpoles or newts I'm your person)
Must get a move on, I need some breakfast, my tummy is rumbling. I have to try and clear my desk of paperwork a bit today as I'm up in London tomorrow at a 'competitions day' with my online group (we have four meetings a year in central London). Most of you will know by now that entering competitions is a major hobby of mine and I have won many amazing prizes over the years, from household appliances, tickets for attractions, spa breaks to holidays here and abroad, including three cruises.
This week's photo - who knows what this scorpion is? I thought they were juvenile Scorpio maurus but now I'm wondering if they are adults of Bothriurus dumayi?
Comments