Thursday 21st July
Sorry, I won't be able to post out any orders today. I am attending a funeral down on the south coast so I will be out all day. I will resume sending parcels on Monday.
Selection of Specials View All
View All Latest Blog Posts
Published: 08/07/2016 Comments 0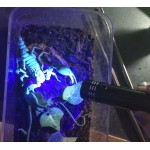 Downsizing my life! Well I'm giving it a go as there clearly aren't enough hours in a day. The bugs are doing well, apart from the poor 'new mum' Tail-less Whip scorpion who I put in with my a...
Latest
Bestsellers